Inexpensive Solutions for Garage Door Replacement
11/02/2013
Back To Blog
The meaning of economy is relative since it is not confined solely to the initial price of the door panel but depends on various parameters. In reality, garage door prices vary greatly but you may realize that an expensive solution could actually be a much cheaper one in the long run. An inexpensive garage system may thrill you today but you might have to pay double for garage door repair services in the near future.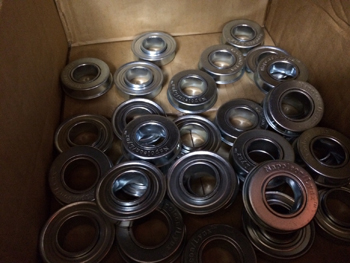 The best thing is to find a good balance among the final price of the product, the quality of the material and the needs for maintenance. You may find out that the glass doors you've been flirting for a while may be more expensive than other materials but they may offer the right insulation and security for your own house. It all comes down to personal requirements.
Consider your needs before you replace the garage door
It is important to take into account your own location and focus on the local climate. Materials behave differently to each area depending on the weather conditions and their exposure to elements. Don't forget that some areas suffer enormously from hurricanes and some homes are built right on the waterfront. You must make sure that the new wood garage doors will be resistant for your own neighborhood and won't start warping if you miss varnishing them once.
In fact, temperatures and humidity levels play a significant role to your choice since garage doors ought to insulate each house with great efficiency. For this reason, you must make sure the door panel is insulated and although this is a more expensive solution, it will be proven prudent in the long run for your temperatures indoors and your pocket. Remember also that little tricks, like choosing strong weather stripping with retainers and changing the bottom seal often, will also contribute to the good security and insulation of the house.
It is also vital to calculate the future expenses for garage door maintenance. For example, wood doors may need more frequent painting than other materials even if they are processed properly by the manufacturers while aluminum might be a lightweight material but it doesn't rust.