Garage Door Cable Tracks
Back To Our Services
Each and every part of your garage system is important and, therefore, they must all be in perfect condition. The loosening up of a single screw could cause the failure of the operational system. Imagine what would happen in case a garage door cable snapped when you are opening the door! You could be seriously hurt or locked outside! That's why the services of Garage Door Repair Danville are important and you can be sure of the expertise of all technicians in cable and tracks.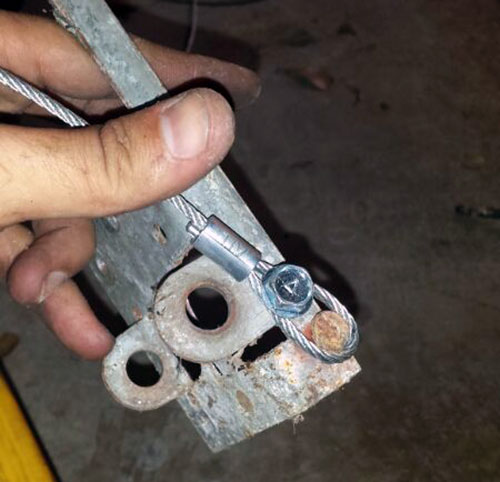 A team of well-experienced technicians in cable/tracks repair services
We specialize in tracks and cable problems and have the means to repair bent garage door track parts and loose cables. We are trained to maintain them and make sure that the door is on tracks. Our technicians have a great experience by working many years in this field and they detect even minor problems and fix them in no time. Their excellent work is supplemented by strong equipment and we will only supply you with the most durable and superb quality replacement parts. We can clean the tracks from debris or elements, which may cause the garage door off track or block the movement of the rollers.
Home Garage Door Cable, Spring & Opener Services
Tracks may bend by a minor accident with your car and the cables may snap due to the continuous operation of the door. Over time the cables may also loosen up and the tracks may break. All these are major problems, which would result to the poor performance of the entire system. Your door could be jammed and you may put yourself in danger, if you don't call for immediate professional garage door repair. We are the experts in the proper repairs and replacements of broken or in any way damaged cables and tracks and can guarantee the excellent performance of your door. You can be certain that our company has expert teams and the technical means to provide 24 hour garage door cable tracks services. Don't hesitate to give us a call today!