Garage Door Replacement
Back To Our Services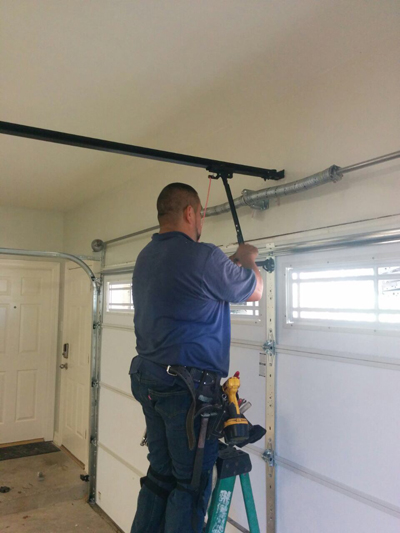 Having to replace part of the garage door, even if it's just a panel, is not as rare as you might think. In fact, it is rather obligatory, especially when some of the parts are completely ruined. With that said, it's good to keep in mind that these kinds of tasks are pretty complicated. Replacing a broken garage door cable, for example, would require releasing the tension of the springs first. Springs are mounted with tremendous tension which increases the risk of injuries. That's why only a professional should be allowed to perform this type of work.
Our company has years of experience in this business and the necessary knowledge to replace every single part of any type of garage door system. Whether you need a spring replacement or a new door, we are the best around. Our service will be invaluable not only because we are experienced in Garage Door Replacement but because we can also recommend solutions, suggest ideas and back you up with other services and advise you every step of the way.
Hire our professionals for door replacement
The procedure of replacing parts is much more serious than people usually expect. It doesn't only involve the actual replacement of the damaged component. It requires knowing what repair part is needed on every occasion. What size tracks? Have there been any changes in the system in the past few years that will require different kinds of springs? Is the client in need of a chain or belt drive opener and why? The overall characteristics of the particular system and, primarily, the weight of the door will determine what size and type of parts are required.
Professional Residential Garage Door Service & Replacement
It is our job to help you out; we can check and measure the garage in order to give you ideas about which type of garage door will fit best. Eliminating options comes in handy, as too many are often overwhelming. We can help you make the right decision. From our experience, we have learned that choosing the material of the door is one of the hardest decisions. In terms of elegance, most materials look good. Many of them come in wonderful colors and they can also have windows and colored frames. But, which one will last longer and won't need constant maintenance? The brands we work with are the finest in the industry. Their doors are made of sturdy materials, and nowadays you can even buy highly resistant wood doors, thanks to their special coatings.

So, when the time comes for garage door replacement, the choice is hard but the final decision must be yours. In the meantime, our job is to help you gather information and guide you based on your, the local weather conditions, your budget and other requirements.
It is our job to see that every customer is satisfied! Contact us at Garage Door Repair Danville today if you need door replacement!