Extension Springs and Door Performance
04/12/2016
Back To Blog
It is a fact that the garage door extension spring systems have more components compared to their torsion counterparts. This naturally increases the risk of issues. If you have such a system in your house, you should be more vigilant and run checks more often to spot minor problems before they get out of hand. Here is some practical information and advice that will help you with this.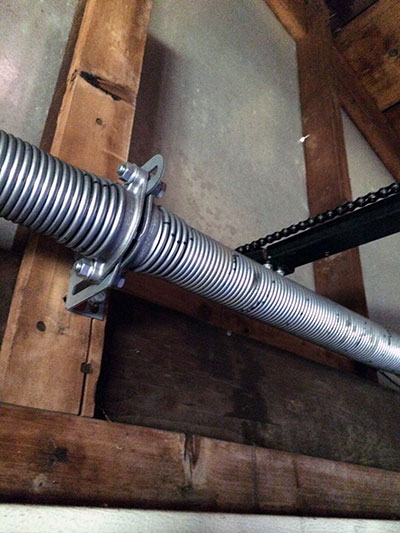 You should have a clear idea of the system's components and of how they work together. There is one spring on each side of the door right above the horizontal track. The back end of each component is attached to a bolt while the front one is attached to a pulley via a specially designed pulley fork. There is a cable that runs over this pulley and over a second one, which is also part of the system. The cables are responsible for lifting the door when the springs contract and apply their force to them.
There is also a single safety cable running through each spring. If the component breaks, this cable will hold the pieces in place. Otherwise, they may shoot across the garage and cause damage and possibly even injure a bystander.
Worrying Signs and Problem Resolution
Most issues are caused by worn parts of the extension spring system. When there is a frayed cable or worn pulley, the door may become uneven. It is dangerous to operate it in this condition as it may go off the tracks and bend or break them. If the problem is not resolved on time, you may not be able to close the door eventually. At the same time, the solution is pretty straightforward - pulley or cable replacement.
When the door gets cocked or jammed, this is usually due to a broken cable. In this case, you should not operate the door as the risk of misalignment and the track bending is very high. The sooner the component is replaced the better. In general, you should inspect cables very carefully during garage door maintenance. If you notice extensive fraying or cuts of any size, you should have these components changed as soon as possible. In this way, you will not have to worry about them breaking and leaving your car stuck inside or outside of the garage.
Undoubtedly, the biggest issue that can affect the system is a broken spring. When this happens, you will be able to hear loud bang if you are around. Afterwards, the door will remain stuck in closed position. If you run the opener, it will strain and may lift it to a certain level, but this experiment is extremely dangerous as the device can get easily broken. Get the broken part replaced in the fastest possible manner.